I just got home from seeing a dance performance.  My friend Sarah Elgart choreographed a  piece called Fly Away Home that was created for and  beautifully performed at the Van Nuys FlyAway.  That's right–dance performance in Van Nuys at a public transportation space.  For those of you who live outside of LA, Van Nuys is in the Valley and not exactly known for an enduring commitment to showcasing cultural events.
The FlyAway is a bus station in the Valley that offers a convenient shuttle service to LAX.  It's got a large open inside terminal, a four story parking garage, a couple of open parking lots and courtyard area.  There's seating inside, bathrooms and it's very clean.  It's not a typical performance space.  But that's what was so much fun about the performance this evening.  It took the audience a while to realize they were mixed in with people waiting for bus service and dancers.  Some of the dancers had carry on luggage just like the passengers.  Passengers waited.  Dancers stood swaying slightly and waiting, pointing, waving.  Because there was no fourth wall separating the audience from the performance, it was hard to pinpoint exactly when the performance began.  It took me a full five minutes to realize I was standing next to one of the dancers.  Passengers walked through the performance as did audience members.  I even encouraged a couple of Armenian guys to walk right through the dancers with their big suitcases in order to get to the ticket kiosk.  Part of what I think Sarah was trying to achieve was this blurring of the lines and performance space.  Children were yelling in the background.  People were running for buses, lugging wheeled suitcases behind them.  Cell phones were ringing.  The audience gathered around what they thought was the performance space only to move out into the courtyard after a bit, following the dancers.
It's paradoxical, but just as Sarah created a vocabulary of movement and gesture fraught with hindered, haunting repetition for her dancers, she freed the audience from the confines of the seat and aisle.  We moved around searching for the best vantage point, trying to take in all the dancers out on the courtyard area.  It was a unique experience to be able to move about during the performance.  Amalia and I whispered to each other about things we liked.  This is in deep contrast to seeing the Cuban ballet last week.  At the ballet, we got yelled at and insulted because the girls whispered some questions about the storyline.  (We still loved the whole performance, shouting Bravo! and clapping until our hands hurt.)  Tonight, at Fly Away Home, the usual constructs of theater and performance fell away.  We were audience members, but we could have been travelers on our way to exotic locations.
I had the pleasure of attending the performance with my daughters and Izzy's friend Maya.  We saw some friends and I got to give Sarah a big hug right when she came off "stage."  Sarah's daughter, Sylvie, hung out with us and has ended up crashing here for the night.  I couldn't wait for the drive home to hear what the girls had to say about the performance.  My girls haven't seen much contemporary dance and both Amalia and Maya tend to be quite literal in their outlook on life.  They all really got what was going on in the piece.  Amalia said she had to pinch herself twice because she wasn't sure if she was in a dream.   I can't wait to tell Sarah this.  It has to be high praise when your audience has lost themselves to that degree.  All the girls felt they'd entered an altered universe while watching the dancers.  I think that speaks to the range of movement Sarah employs in her choreography.  While we see dancers extending and bending beautifully, there is also a familiar, everyday quality to the movement.  Many of the movements are small and repetitive.  Sarah's observation and portrayal of our ordinary lives was something the girls readily grasped.
Sylvie talked about being happy that her friends could come to her mother's dance performance, enjoy it and get it.  I think I was as happy as Sylvie in knowing that the girls were able to truly enjoy the piece and understand what was going on.  They were engaged in what was happening and intrigued by the setting.  This was a successful field trip.  I'm feeling like a great mother and I'm pleased at my friend's success.  I'll try to round up Sarah for an interview for the blog.
I wish I could say to rush out and see Fly Away Home, but the performances are over.  However, you can look for more work by choreographer Sarah Elgart.  Here's a clip from YouTube that gives you a sense of how Sarah and her dancers used the space, including the parking garage.  The projections were put together by Sarah's husband (and artist), Stephen Glassman.  [kittrellkaye got this up YouTube super quick, which is really great!]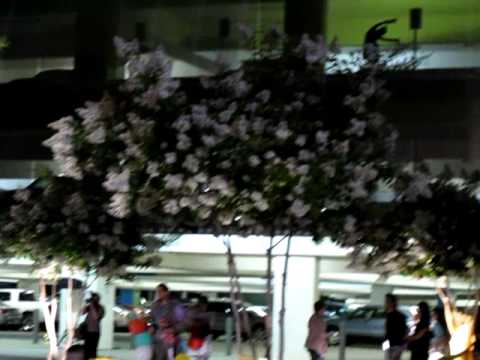 While you're checking out links, click here for Sarah's Emmy-nominated PSA for the Legal Aid Foundation of LA.
The performance of Fly Away Home was made possible by support from the City of Los Angeles Dept. of Cultural Affairs and Los Angeles World Airports.